Usability 101 Cheat Sheet
Usability is important. It's the foundation of any successful website or mobile application. It doesn't matter how beautiful your design is, if it isn't usable and useful, no one will use it. There's no way around it, if you want to succeed on the web you HAVE to consider usability.
At its simplest, usability relates to designing interfaces that are easy to use and match the needs and requirements of your target users.
Below you'll find a simple cheat sheet setting out the 6 main quality attributes of usability as well 2 of the most popular guidelines for designing usable interfaces.
While there are more quality components that are relevant to designing a usable interface, the ones listed can be considered the most important.
Learnability: Is it easy for users to do what they want the first time they come across your design?
Efficiency: Are users able to complete their tasks quickly?
Memorability: Can users remember how to use the interface even after not using it for a period of time?
Errors: Do users make errors regularly? How severe are the errors and how easy is it for them to recover?
Satisfaction: Is using the interface a pleasing experience for users?
Utility: Are users able to do what they need and want to do?
For a more detailed summary of Nielsen's 10 Usability Heuristics, be sure to check out our earlier post which gives descriptions on how each of the heuristics should be applied.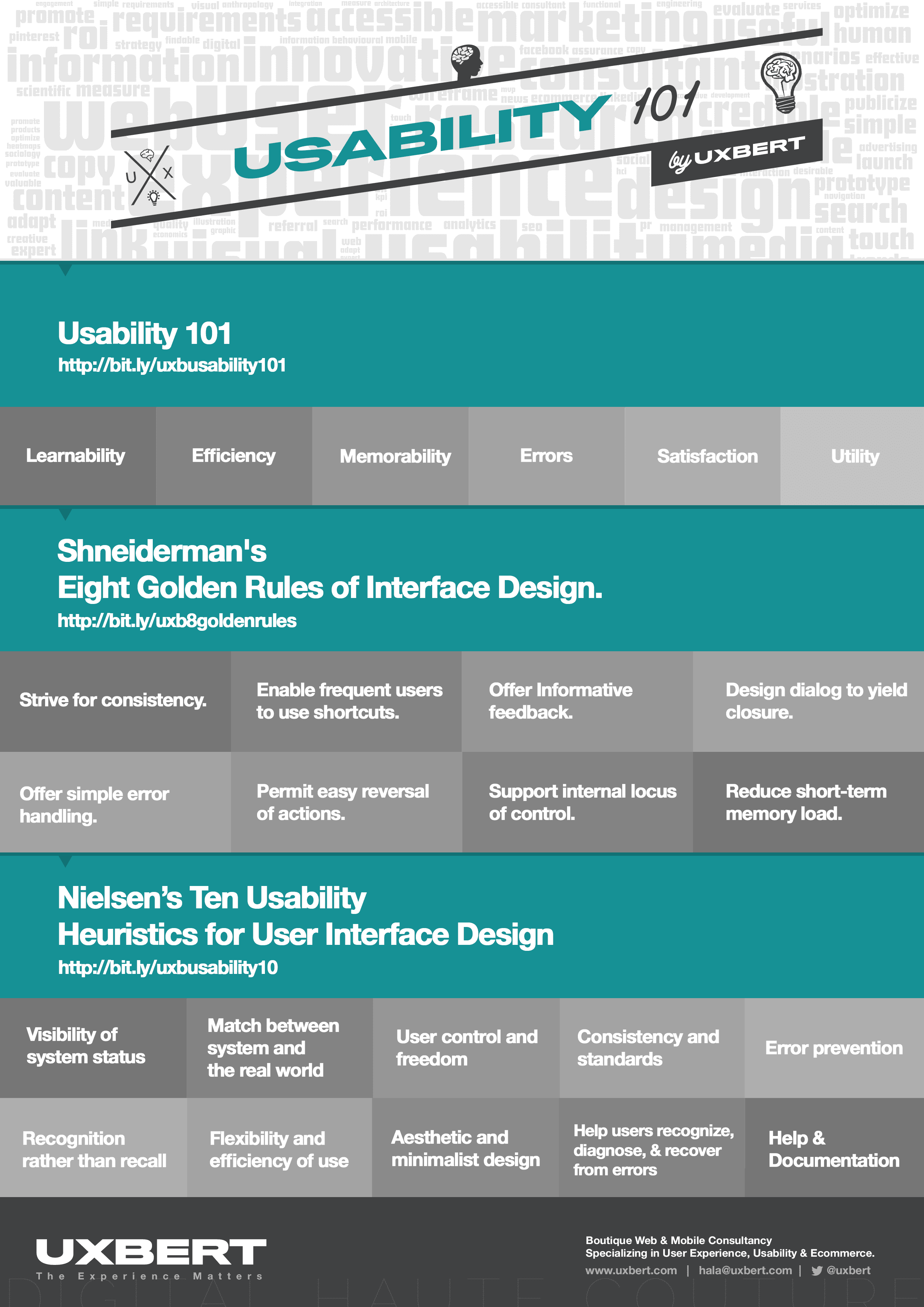 At UXBERT Labs we specialize in UX Research, Design & Development services that deliver world-class experiences. With offices in Riyadh and Dubai, our team of UX Researchers, Designers, and Developers deliver custom designed and built software to help businesses succeed.
Looking for a UX agency in Dubai or Saudi? Email us at hello@uxbert.com and let us show you why we're an award winning company.