UX Workshop Recap: Usability Guidelines For Websites & Mobile Apps
We recently held our 5th UX Riyadh meetup "Startup UX for Entrepreneurs: Usability Guidelines for Websites & Mobile Apps". The atmosphere was great with a fantastic turnout from returning members as well as a hand full of new faces. It's always a great pleasure to meet and connect with local entrepreneurs, designers, and developers who always bring their passion to our meetups!
After the usual introductions the event kicked off with presentations from our UI/UX Designer Megastar Yousef 'You Call That a Logo' Shanti and Mr UX himself Nadeem 'It's All About the Process' Bakhsh.
The session began with an overview of the User Centred Design process which covered the different stages and emphasised the need for a continuous iterative cycle throughout the design and development stages.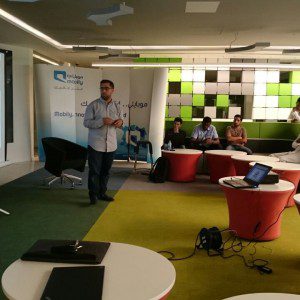 Next up was a discussion about usability, the various quality attributes that define it and the business benefits in terms of ROI.
We rounded up the session with an in-depth review of Jakob Nielsen's 10 usability heuristics with definitions and examples for each one.
Overall it was a great session that generated some interesting discussions and we hope for an even better turnout at next month's meetup where we'll be carrying on where we left off on Saturday.
Slides from the presentation can be found below. Make sure you don't miss out on future meetups by joining our User Experience & Design group on Meetup.com or signing up to our blog email newsletter on the right-hand side.
Last but not least we'd like to give a special thank you to the folks at Mobily for hosting us at their awesome developers lounge and also a huuuuge thank you to everyone who came down! We hope to see you all again real soon!
Key Takeaways From the Meetup:
The User Experience matters today more than ever before. A great UX will create an experience that is easy to use, stands out, delights users and creates real value for your business
A positive user experience is one in which the goals of both the user and the business are met
Users these days have more options to choose from meaning they are less accepting of the average and unusable and demand more value
The User-Centered Design process focuses on the end users' needs, wants, and limitations throughout the product development lifecycle
Design a real-world story into a user journey that meets the user's needs, not just individual pages
Usability is made up of a range of quality attributes the most important being; Learnability, Efficiency, Memorability, Errors, and Satisfaction
HOME RUN principles for a successful website:

High-quality content
Often updated
Minimal downtime
Easy to use
Relevant to users' needs
Unique to the online world
Net-centric corporate culture

Usability is a necessary condition for survival on the web and has a direct influence on ROI
Jakob Nielsen's 10 Usability Heuristics are guidelines for designing a usable interface
At UXBERT we specialize in more than just Website Design. Specialists in Arabic UX & Usability, we build experiences that bring VALUE to your business. And we do it through testing with real users in our custom built, first of its kind in Saudi Arabia, Usability Testing Lab!
 Contact us today to see what we can do for you.
We're HIRING! A big part of what makes the work we do so special is the people we work with. If working with a great team to create products people love is what you're looking for then get in touch!
At UXBERT Labs we specialize in UX Research, Design & Development services that deliver world-class experiences. With offices in Riyadh and Dubai, our team of UX Researchers, Designers, and Developers deliver custom designed and built software to help businesses succeed.
Looking for a UX agency in Dubai or Saudi? Email us at hello@uxbert.com and let us show you why we're an award winning company.