Gamification in the Workplace: How Saudi Businesses Can Take Advantage
Gamification is a strategy used across industries to increase employee satisfaction and productivity. It helps businesses meet their goals faster and increases organizational productivity.
With businesses in Saudi Arabia increasingly investing in digital transformation in the workplace, gamification strategies provide an opportunity to boost organizational productivity.
By implementing gamification into their digital transformation, Saudi businesses can take ensure that they not only provide employees with digital tools to improve productivity but also help them develop habits that increase efficiency and effectiveness.
What is Gamification?
Gamification involves implementing game-design elements, such as social, psychological and behavioral triggers, into the work field in order to make it more engaging. This in turn results in higher levels of productivity, work satisfaction and motivation.
Put simply, it's a way of turning anything work-related into a game by providing rewards for successful completion of a task.
But does it actually work?
Psychology of Gamification: Why it Works?
In 2015, global online gaming expenditure reached $28.3 billion USD and global gaming software expenditure was an astonishing $55.51 billion USD.
Gaming technologies have been one of the fastest growing industries with total consumer spend in the industry in 2014 at $22.41 billion.
So what makes gaming so addictive and successful?
To understand this success, a good place to start is by exploring the psychological effects gaming plays in our minds.
Behavioral research has shown that satisfying our intrinsic, or innate, motivators makes work more motivating and pleasing.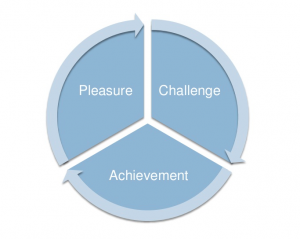 The combination of challenges paired with rewards activates the reward system in our brains, which releases dopamine, a neurotransmitter that when activated makes us feel more positive and eager to go after goals or rewards.
When this feeling is accompanied by a certain experience, it leaves an imprint creating a cycle making the person seek this challenging behavior again to achieve the pleasurable reward associated with it.
Why Gamify?
Employers, employees, and customers all benefit from gamification implemented into the business model. Companies that have applied effective gamification strategies have reported:
Increase in employee satisfaction and productivity
Increased engagement
Increase in ROI
Engaged customers
Improved brand reputation
Increased customer loyalty
Freshened marketing
Increase in revenue
Corporate workers say the top benefits of gamification are an increased desire to be at work and be engaged (30%), the inspiration to be more productive at work (27%) and a sharper focus on tasks (20%).
How to Implement Effective Gamification
Changing employee behavior requires 3 elements to work together; motivation, ability, and trigger.
A well-designed gamification platform starts by inspiring active participation geared to specific business goals. Then, it monitors results, measures the business impact and supports long-lasting learning and improvements that drive even greater satisfaction and engagement.
To successfully achieve results, gamification strategies should be kept timely and relevant, tailor the rewards to fit different user types, and consider the usability and ease of use, being careful not to make the games too challenging.
Keep in mind that gamification is not a one-size-fits-all technique, what appeals to some may not work for others. Gamification elements should be varied in order to satisfy the needs of different users.
There are many examples of how gamification is increasingly important to boost business success.
Several fitness apps implement gamification strategies to track personal goals and keep users active and motivated. Gaining rewards becomes addictive and keeps the users coming back for more, ultimately leading to the success of the app itself.
In much the same way, businesses can also implement the same strategies into their own digital platforms used by employees.
The image below shows a customized employee dashboard (one of many designed by UXBERT) which includes progress details and visual representations of achievements and further achievements that can be attained, creating a sense of self-satisfaction as well as motivation at work.
Leaderboards are another way to utilize gamification and create healthy competition in the workplace between employees. Some achievements that can be measured on a team or across departments could be task completion, punctuality, group collaboration and sharing information and ideas.
Real-time feedback, points, badges and competitions positively reinforce and drive behavior on any platform.
Which features you choose to implement into your gamification technique will depend on an understanding of what will drive the audience to act in ways that benefit your business and sustain that engagement over time.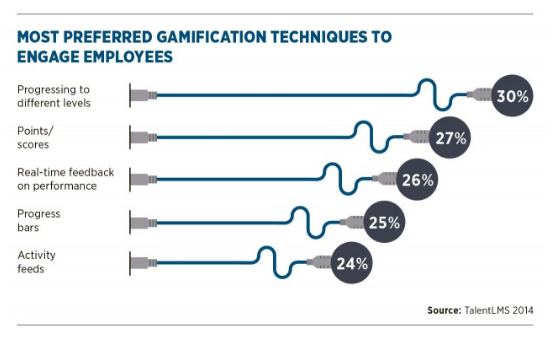 When gamification techniques are executed properly, it provides the opportunity to help the business meet its internal and external objectives, as well as provide a transformational change across the organization.
Externally, gamification has been proven to increase customer retention, engagement, and loyalty. Internally, gamification produces the appropriate incentive schemes for employees to meet business objectives and compete more effectively.
The Future of Gamification in Saudi Arabia
The global market for gamification in the workplace is expected to reach $5.5 billion in 2018. Already more than 70% of Global 2000 organizations have at least one gamified application, driving 50% of all innovation.
As Saudi businesses continue to recognise the need and benefit of digital transformation within their organisations, those that are early adopters of gamification strategies to boost employee productivity and moral will begin to stand out from their competition.
At UXBERT Labs we specialize in UX Research, Design & Development services that deliver world-class experiences. With offices in Riyadh and Dubai, our team of UX Researchers, Designers, and Developers deliver custom designed and built software to help businesses succeed.
Looking for a UX agency in Dubai or Saudi? Email us at hello@uxbert.com and let us show you why we're an award winning company.