July Meetup Recap: Emotional Design
Our all-female July meetup was another exciting evening full of stimulating discussions!
Attendees included both local and international developers, designers and students who were curious about emotional design and it's importance in creating great user experiences. They all looked forward to the opportunity to connect with people with a similar passion for UX.
Our very own UX superstar Linah Aburahmah was the speaker for the event. She kicked off the meetup by asking people to introduce themselves while helping themselves to the snacks and drinks provided. This sparked off a discussion about everyone's respective backgrounds and what attracted them to this event. By the end of the ice-breaker, there was a relaxed and intimate atmosphere around the room.
The presentation began with an entertaining example of a company who successfully incorporated emotionally intelligent design in their website. Linah showed the audience some quotes outlining the company's design philosophy and asked them to guess which company it was. The audience gave answers like 'Google' or 'Apple' but were surprised that the answer was actually Mint.com.
With people's attention was engaged by an entertaining introduction, Linah dove into the key concepts and principles of usability and user experience. The crowd kept the discussion going with their own hilarious personal experiences on websites with poor usability.
After a quick run-down of the basics of UX, Linah went on to explain how beautiful products induce positive emotions and these emotions directly impact the product's usability! She used several studies and examples from real-world websites to demonstrate this to the audience.
The fact that aesthetics and usability were related was a new concept for many audience members. The rest of the presentation was aimed at helping the audience understand the different theories of emotional design and how to implement them in design.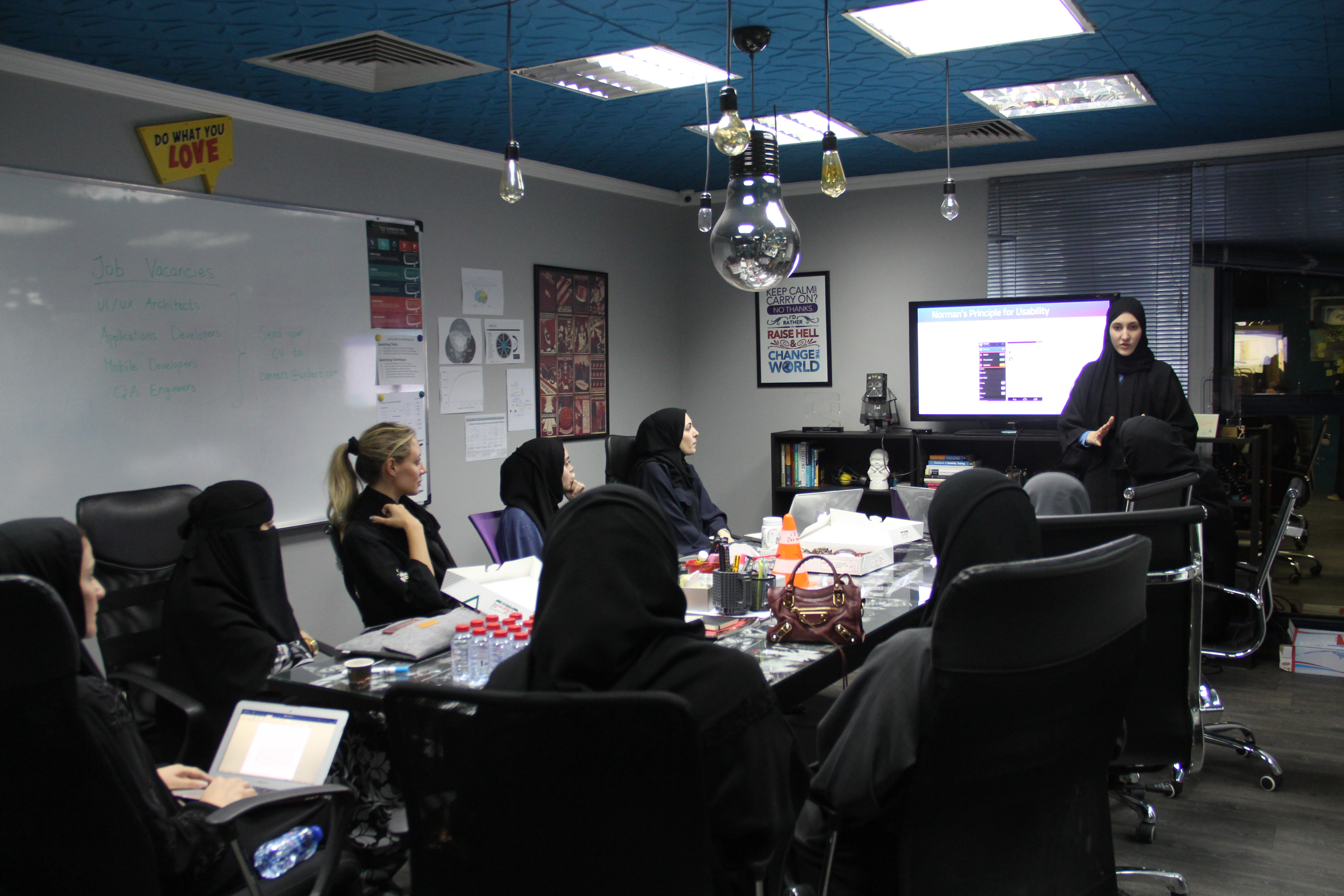 While talking about the theories of emotional design, the audience had a discussion about how a product's brand identity can help a person develop an emotional connection to it. They cited the iPhone as an example and said that most people buy Apple products because the brand has a 'hip' or 'cool' vibe. Our cognitive scientist and comedienne in-residence, Nadeen Alloush, gave her own example; saying, "This is why I always buy water that says "Canadian Water" on the bottle. I know it's just plain water but I can't help it! I'm Canadian! When I see it, I just need to have it!"  
The most exciting part of the meetup was the Twitter challenge at the end of the presentation. Audience members were asked to explain their attachment to Snapchat using emotional design concepts. They were given 10 minutes to tweet @uxbert their answers to the question.
Although we had awesome answers from everyone in the crowd, Sara (@Sarasization) had the most innovative and original idea and was awarded the first prize. She described the cultural reasons behind why Snapchat was especially popular in Saudi Arabia. The prize gift was the book called "Emotional Design" by Don Norman.
@uxbert
Snapchat's simplicity, basic functionality, and relation to cultural aspects (privacy) creates a perfect combination. ??

— Sara Alshim (@Sarasization) July 25, 2017
The crowd was very pleased with the entire experience and all of them were willing to return for future meetups. The ladies stated that the UXBERT Labs office had a really cool interior and requested a tour before leaving. By the end of the meetup we had all gone from strangers with similar interests to friends exchanging our personal experiences together.
We're always proud to bring together the UX community and share our expertise together and learn from each other. Make sure you don't miss out on future meetups by joining our User Experience & Design group on meetup.com or signing up to our blog email newsletter.
We're looking forward to seeing more and more UX enthusiasts in our upcoming meetups!
For any questions, comments or suggestions feel free to email us at [hello@uxbert.com]
At UXBERT Labs we specialize in UX Research, Design & Development services that deliver world-class experiences. With offices in Dubai, Riyadh and London, our team of UX Researchers, Designers, and Developers deliver custom designed and built software to help businesses succeed.
Interested in working with us? Email us at hello@uxbert.com and let us know your research, design or development needs.