6 UX Best Practices for Bank Digital Services
While customers are getting used to seamless, cross-functional user experiences from the likes of Google or Apple, retail banks have been struggling to keep up.
The pressure is on for banks to design an improved customer experience, or lose out to existing competitors and new fintech startups that match growing expectations.
So what do customers want from digital banking, and how can banks best organize themselves to meet customer expectations?
We've put together a list of 6 guidelines that banks should implement when designing their online experiences in order to deliver optimal customer experiences.
1. Optimize Your Site to Improve Speed
Research from the design and technology company Beyond suggests that 53% of bank customers want faster ways to transact online.
There are many ways banks can do this. For starters banks should avoid asking for extra input data and instead focus on just information that is vital for the processes. Additionally, UI's and user journeys should only include necessary elements in order to create faster and to-the-point payment processes. Customers should be able to complete their transactions in as few clicks as possible.
2. Design to Increase Security
Studies show that 55% of users are concerned with ID theft and as many as 71% of customers want additional levels of security.
To maximize security, banks should use multiple security solutions like gesture patterns and biometrics in addition to more traditional authentication via passcodes. Biometrics are particularly useful because they are difficult to fool, not to mention a lot better compared to digital passcodes. They provide instant access to the service with an acceptable level of security. This solves the design problem of increasing security without compromising on speed or ease of use.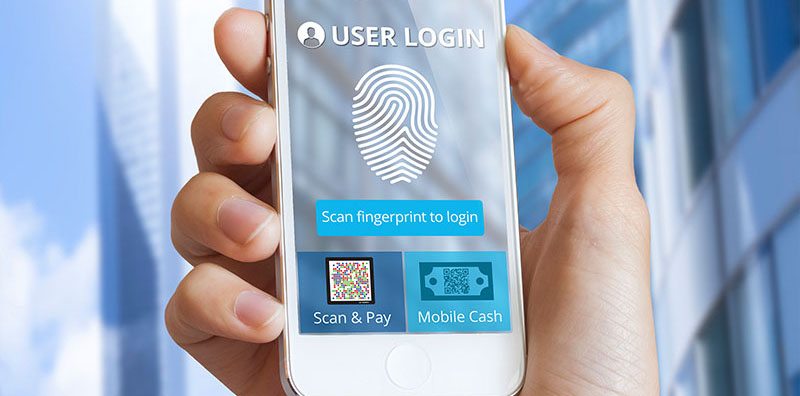 You can provide a quick entry to the account through biometrics but for certain functions like changing security settings or for the transfer of large sums, additional passcode authorization should be required.
Where designing digital passcodes is necessary, the following practices should be kept in mind:
Add an auto lockdown function if there are many failed attempts.

Font size should be large when creating the passcodes to make it easy to read.

Keep the passcode hidden as they are being entered.

Allow for time-out option that triggers for passcode entry after inactivity of about 1 to 5 minutes.

Don't accept obvious passcodes like 1111, 1234.
3. Personalize Your Customer's Experience
Almost every business is realizing the importance of personalizing the customer experience. Personalization is especially important for banks, whose customers need to trust the brand and not feel like just another account number.
Banks can achieve this by creating unique experiences for customers based on past user data. This involves collecting data about customers, such as their behaviors and preferences, in order to create and present content in a way that best works for them. If your data suggests that a customer has just started a family, you could send them information to help with financial planning for the future.
Customers increasingly want personalized online tools. Some 50% of customers believe that banks should provide tools and services to help customers save money and make financial decisions based on their data. Most customers (73%) from this group also felt that these tools would significantly increase their loyalty to the brand.
By providing personalized digital advice, banks will be integrated into the center of their customers' financial lives.
4. Design to Build Trust
Transparency
Just like in real life, being honest and upfront with all relevant information is necessary for building trust on the web.
People appreciate when sites are transparent with information that relates to the customer experience. This is especially important for banks where customers have higher security demands. You should always clearly include details like contact information or any additional fees or charges accompanying a service. The trick is not to hide this information behind layers of information but rather make it available to the user at the point of the user journey that they'll need it.
Aesthetic and Minimalistic Design
Banks should make sure that their websites have an updated look and feel with a modern, clean style that reflects the financial institution's brand. This will help instill confidence and trust in the experience and, in turn, the financial institution.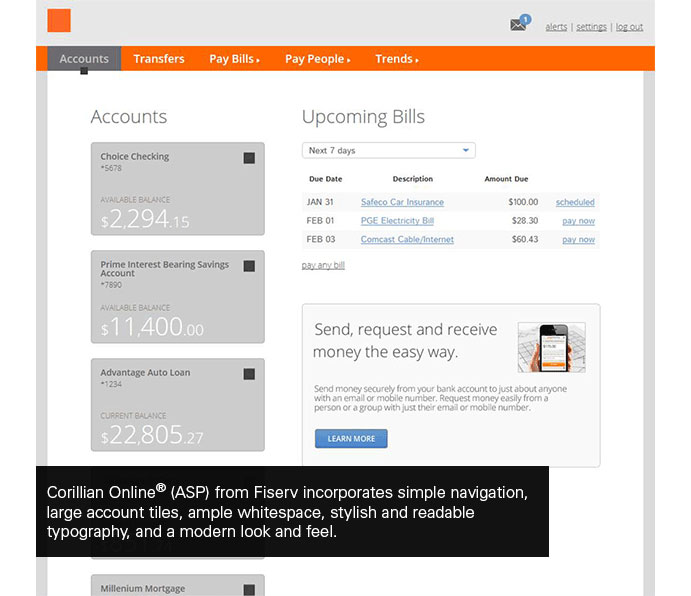 Accurate and Detailed Information
Make sure to add detailed and accurate information related to the website. This shows that the organization is well informed, up-to-date and committed to helping its customers.
Avoid using flashy banners and popups because they seem untrustworthy and spammy. Use a style of writing that is clear, direct and sincere.
5. Strive for Ease of Use
As many as 50% of bank customers want easier ways to log in to their account. Financial institutions should simplify the online banking experience in terms of page layout, navigation, task flows, and content display.
The most frequently used tasks should be clearly accessible. Simple navigation leads to ease of use throughout the experience, as well as increased efficiency and confidence for the end user.
6. Create a seamless, cross-functional customer experience across all channels
There is a lot of room for improvement in the creation of experiences that are better integrated across channels. Many customers who use both branch and digital say the channels are not well integrated at most banks.
In addition, a growing number of consumers are banking from smartphones and tablets, yet online banking remains foundational to the digital banking experience. An ideal online banking experience will resonate across digital channels with consistent information and design elements.
Conclusion
Banks face a major challenge when looking to redesign their digital offerings. The speed at which customer expectations are changing is faster than ever. To stay relevant in today's marketplace, they must be able to respond more quickly to changing customer needs. There is no silver bullet solution for banks, but implementing these six design tips will be help banks improve their online experience.
At UXBERT Labs we specialize in UX Research, Design & Development services that deliver world-class experiences. With offices in Riyadh and Dubai, our team of UX Researchers, Designers, and Developers deliver custom designed and built software to help businesses succeed.
Looking for a UX agency in Dubai or Saudi? Email us at hello@uxbert.com and let us show you why we're an award winning company.