Apps & Design – February 2017 Alf Hewar Meetup
The Alf Hewar Apps & Design meetup held in February was UXBERT's most exciting meetup to date! Our Captain Nadeem Bakhsh sat with Dr. Sebastian Stricker, founder of the ShareTheMeal initiative, for a captivating conversation!
The halls of the Four Seasons Hotel were magnificently set up for our Alf Hewar Apps & Design Meetup. Our speakers were seated on a stage in the center of the hall as the anticipating crowd of entrepreneurs, techies and philanthropists watched on in awe!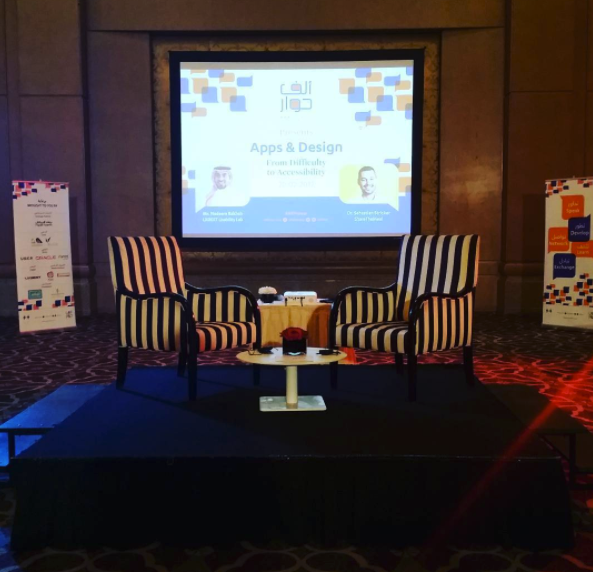 The meetup kicked off with personal introductions from the speakers. Saudi Arabia's own, Nadeem Bakhsh, a firm believer in the importance of usability in technology, introduced himself to the crowd by talking about his expansive international work experience in the UX and Usability fields that led him to manage and lead various UX projects prior to starting his own UX consultancy, UXBERT. (Yay us!)
Dr. Sebastian Stricker, who studied International Relations at The University Of Vienna, spoke about the various projects he worked on with the UN before founding ShareTheMeal.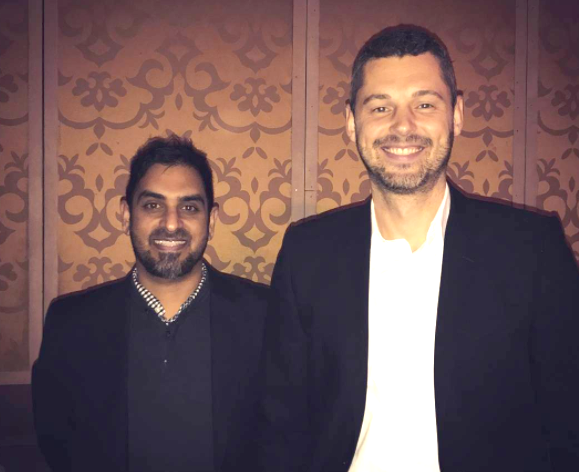 Questions concerning several aspects of their personal and professional lives were displayed on the screen after their introductions and our speakers took them on one after the other!
When asked about the defining moments of their careers, our speakers gave two admirable answers.
"Small steps make dreams, there wasn't any sort of revelation. I must admit, there was no stringent plan though, just opportunities presenting themselves to me. I'm glad I made good use of those opportunities", said Dr. Sebastian as a reply to the question.
"I will say that setting up a UX consultancy was a result of my love for technology and sports! My brother and I noticed how it was a hassle getting out and playing organized sports when no one was willing to do the organizing. The apps that already existed had serious usability issues! HalaYalla was a product of those observations." replied Nadeem while adding, "Sawwagy, on the other hand, emerged from my wife's complaint about our personal driver being constantly late when asked for a pickup!"
Both our speakers were then asked to share their personal methods of dealing with the feeling of defeat and dejection.
Sebastian claimed to have a hypothetical switch he could control to do away with those negative feelings! Nadeem, on the other hand, replied that whenever he wasn't in the best of moods, he would walk into the office and watch his team hard at work and that would always lift his spirits! (Says a lot about us doesn't it? *wink*)
Their mutual love for technology and how it helps solve many of the problems that society faces was evident in their conversation. Their work is a prime example of technology coming together with society to solve its problems; HalaYalla promotes health and fitness in the Kingdom and ShareTheMeal provides food to starving children throughout the world!
The most important questions, definite answers to which would lessen the burdens of all the entrepreneurs of the world, were asked at the end of the talk. "How do you attract the right talent to join your team? And what is the difference between a good developer and a great developer?" were a couple of the questions the curious crowd had for these talented and experienced young entrepreneurs.  
"When I entered UXBERT, I felt as if I had entered Google's office!", complimented Sebastian!
Nadeem explained that creating and sustaining a fun environment at the office had been his goal since day one. "You always work better if you're enjoying yourself while working and if you're having a good time at your job, everyone wants to join you!" exclaimed Nadeem.
Sebastian added by saying that talent needs to have great work ethic in order to create perfect team dynamics. He went on to claim that setting up a proper testing schedule that would gauge the applicant's talent, as well as work ethic is vital to forming a great team.
Both Nadeem and Sebastian agreed that a great developer was someone who could look beyond the modules that he was given and create products with a genuine artistic care for his work.
Having shared a wealth of knowledge for everyone to learn from, the discussion came to end with both speakers thanking the crowd and the organizers for holding such a wonderful event.
A networking session unfolded and the crowd got a chance to interact with each other and personally speak with Sebastian and Nadeem!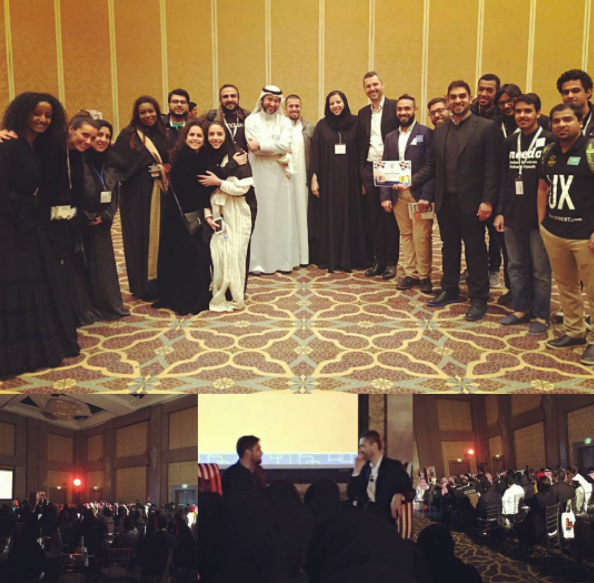 All in all, we can say that it was an enlightening and fun meetup! Not only did the attendees get to pick the brains of two successful entrepreneurs, but they also got to hear about their struggles and experiences.
We'd like to congratulate the team at Alf Hewar for their great work with the event and thank all of those who attended! Looking forward to seeing you all soon at our next meetup!
At UXBERT Labs we specialize in UX Research, Design & Development services that deliver world-class experiences. With offices in Riyadh and Dubai, our team of UX Researchers, Designers, and Developers deliver custom designed and built software to help businesses succeed.
Looking for a UX agency in Dubai or Saudi? Email us at hello@uxbert.com and let us show you why we're an award winning company.